My name is Erica. I've been drawing people as cartoon caricatures since 2002.
Among New Hampshire, Maine, Massachusetts & Vermont birthday parties, company parties and other events, I've drawn at major theme parks and some really cool places.
If there's a group of people for a party, event or gathering that loves entertainment, caricatures is an unforgettable party experience.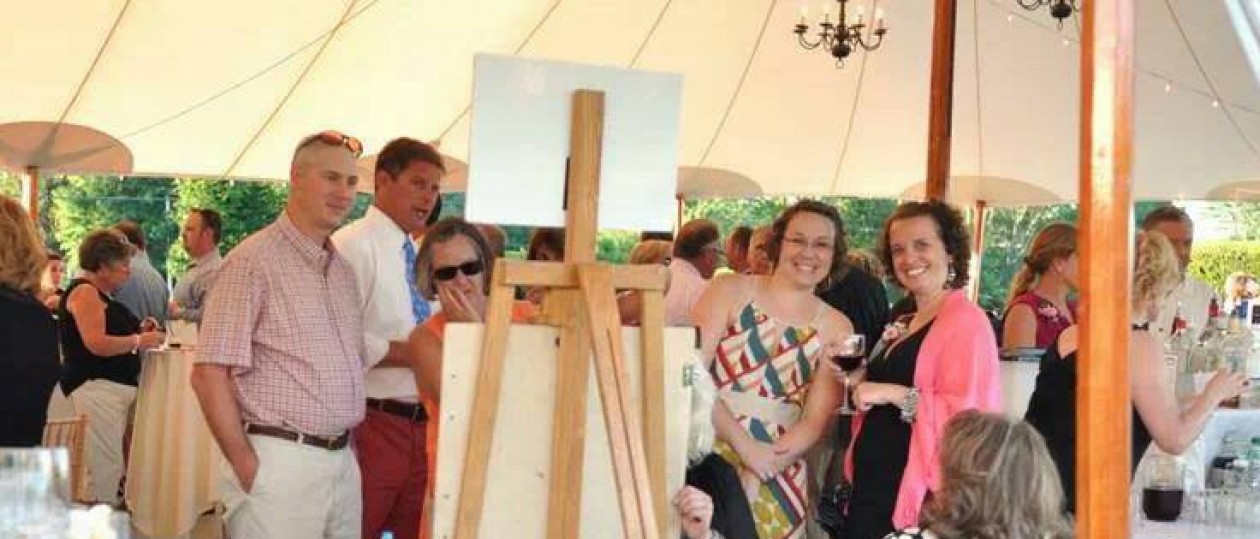 Everyone loves to get drawn as a cartoon.
Oh, and I can draw up to 20 people an hour. I was trained at Walt Disney World, and I am a New Hampshire Native.
LIVE CARICATURE ENTERTAINMENT SAMPLES
Here are some samples of me drawing live! Your guests would love caricatures and it would be an amazing commemorative piece to your party or event. To hire me for live caricature entertainment, click here.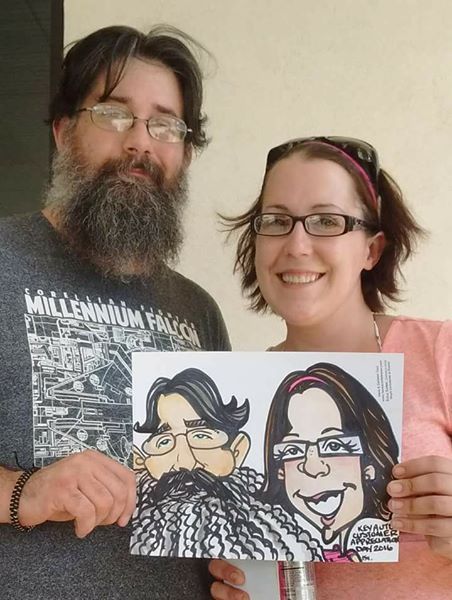 GIFT CARICATURES
I can also draw from a photo! You simply email me your picture and idea (or ask me to make something up) and can create you an amazing caricature gift and mail it out to you!
Here is a sample of a gift caricature: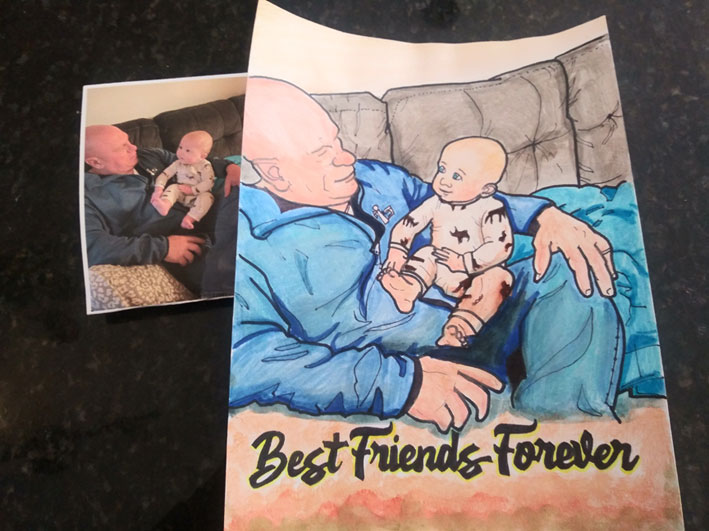 To hire me for a gift caricature, you can contact me here.
CARICATURE CLASSES & INDIVIDUAL TUTORING
Would you or your class like to learn how to draw caricatures? You can hire me to teach you on a single drawing topic or an entire curriculum. I have taught art, drawing and caricatures to individuals, summer camps and schools!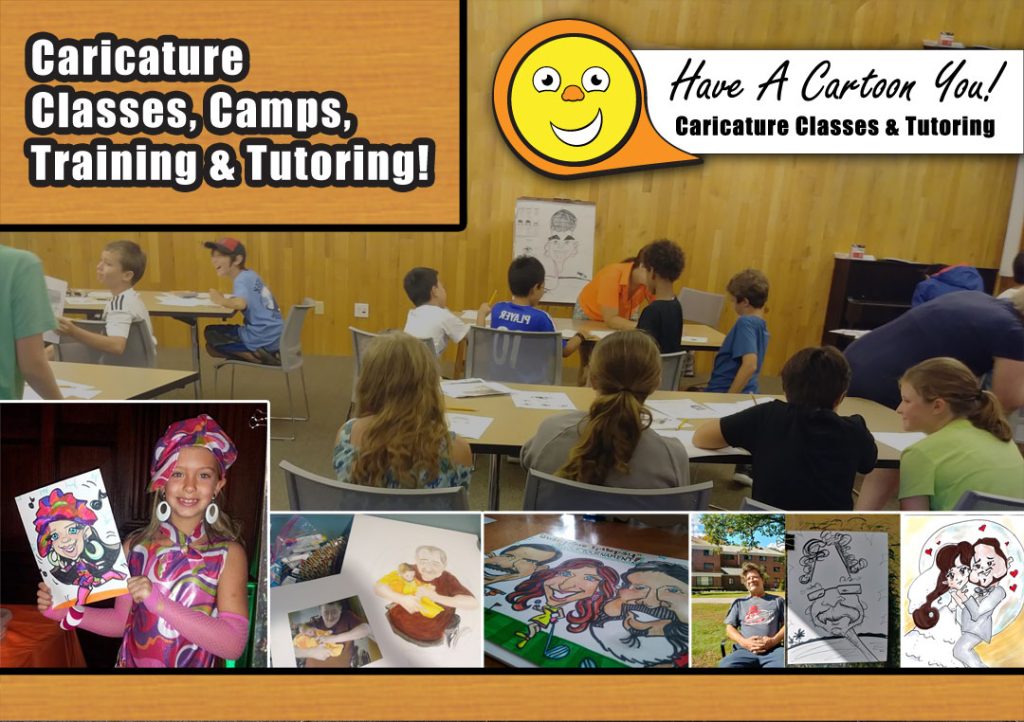 To hire me for classes or individual tutoring, you can contact me here.
FREE PAPER BRANDING FOR LIVE CARICATURE EVENTS!
For live caricature entertainment bookings, I provide free paper branding to all of my clients, which means I can customize your paper! If you want to add your company or sponsor logo, event icon, event name and/or party date to the caricature paper, I can pre-design it and bring it with me when I arrive!
EXPERIENCE
Here are some places I've drawn cartoon caricatures:
Walt Disney World

Universal Studios

Boston Museum of Science

Christa McAuliffe Space Center

Toys for Tots

Las Vegas Strip

And Hundreds More!
MORE INFO ON CARICATURE ENTERTAINMENT
Drive people to your New Hampshire, Maine, Massachusetts or Vermont event by offering fun and exciting caricatures! With this super fun live entertainment, you'll send your guests home with gifts they will cherish for years to come!
Depending on how many people you anticipate attending your event,
you can choose to have cartoon faces only or faces with cartoon bodies drawn, in color or in black and white, or a mixture of up to all four.
Color caricatures are provided in the medium of Markers and Watercolors, including permanent marker, Mr. Sketch scented markers and highlighters.
All Caricatures, whether are drawn on a durable 100-120lb Bristol board, sized
11×14, 9×12 or 9×11″ and drawn straight in marker. No pencil is ever used! Live event paper is standard 8×5 x 11, 110lb cardstock. If you need something different, just let me know!
Here are some of the other canvases I have been hired to draw on:
Paper
Poster board
T-shirts
Glasses & Mugs
Stretched Canvas
& More!
Common Events Hiring Live Caricature Entertainment:
Weddings
Company Parties
Holiday Parties
School Events
Birthdays
Bar/Bat Mitzvahs
Community Events
Fundraisers 
Festivals
& More!

Do you have a special idea in mind for your party or event? I'd love to hear about it!
SERVICE AREAS: (NH, ME, MA & VT)
I will travel to New Hampshire, Maine, Massachusetts & Vermont (and would consider travelling further if it makes sense!) Seriously though- if you have a Caribbean cruise event and need a caricature artist, I might take you up on it 😀 Doesn't hurt to ask!
Samples of Caricature Service Area:
Laconia, NH
Belmont, NH
Alton, NH
Tilton, NH
Portsmouth, NH
Dover, NH
Keene, NH
Rochester, NH
Somersworth, NH
Hampton, NH
Concord, NH
Manchester, NH
Newburyport, MA
Boston, MA
Portland, ME
Exeter, NH
Derry, NH
Hudson, MA
Danvers, MA
North Hero, VT
Franklin, MA
and Surrounding areas.
HOW TO HIRE ME
Call Now For More Information Or To Schedule Your Event!
603-332-9382 or Send me a message here.
Common Misspellings of Caricatures (kăr′ĭ-kə-choo͝r″, -chər): characatures, charicatures, charactures, charictures, caratures, charistures, carictures, characateurs, cariactures, caricatyrs, characters, caractchures, caracters, caraters, caritucure, careictor, caricters, caricatuures, charactr, cariacture, careture, charactre